Brussels, Belgium
May 6-8, 2011
This past weekend we traveled to Brussels, Belgium. Before going, we had heard mixed reviews on the city. In our opinion it was certainly worth a stop. Brussels is the capital of Belgium. It is also the administrative home of the European Union and is commonly called the Capital of Europe. Brussels is also home to NATO. Both Dutch and French are spoken- but French is more common.
We lucked out and got a super deal on a room at the Aloft hotel right next to the EU parliament. It was a great location close to a metro stop, restaurants, shops, grocery, etc. This was probably the nicest place we'll stay- so we took some photos.
Just across the street there was a large park that we had a picnic lunch in two days we were there. The grocery stores have a great selection of prepared foods – sandwiches, pastas, salads, fresh breads, fruit, yogurt etc. We've been enjoying piecing some of our meals together that way. Combined with all the street foods we've been eating and restaurants… We are not going hungry!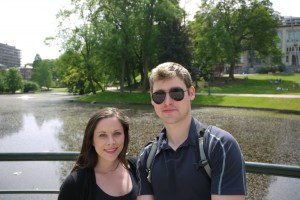 In addition to hitting any attractions we've tagged specifically, we are spending a large part of our time "exploring by wondering". We typically start these days somewhere close to the central train station so we can eventually find our way back when our legs wear out. Some of our favorite sights we've just stumbled upon.
We went inside the Cathedral of Saint Michael and Saint Gudula just as the bells were ringing. They also have a tremendous pipe organ that seems to be hung from the wall. We heard part of an organ performance. You can see the organist sitting way up high playing. The pulpit is baroque in style with beautiful carvings.
When Pat asked me what I wanted to do in Belgium my short answer was "chocolate and lace." We found both.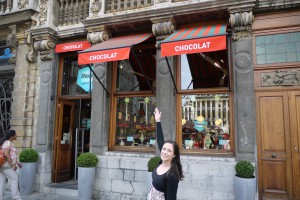 On Saturday we went to a chocolate demonstration at "La Maison Des Maitres Chocolatiers." This chocolate shop is located on the Grand Place and is a flagship of real hand-made Belgian chocolate. It's a collaboration of 10 Chocolatiers representing all regions of Belgium. They aim to promote their craft and to maintain the legacy of Belgian chocolate. There are many many many chocolate shops all over the city- this one is extra special as more than just a shop. The demonstration was given in French and English by a young female chocolatier. She explained the history of chocolate all the way back to the first known cocoa beans that were found in Mexico and used to make "chocolate water." This was a bitter drink. When the Spanish conquered the Aztecs the beans were brought to Europe and their popularity spread. Europeans sweetened the cocoa water with milk and sugar. Eventually the process was developed to make what we know as a chocolate bar today. Chocolate was very expensive and not widely consumed until the early-20th century.
There are 2 types of chocolates. Origins and traditions. Origin chocolate refers to pure chocolate based on the location the cocoa beans were grown. Traditions are recipes where things are added to the cocoa beans (i.e. sugar, milk, pepper, salt, etc.) Chocolatiers today buy their beans specifically for their recipes aka traditions and for pure origins they wish to sell. They blend beans from various places to create a multitude of unique flavors of chocolate. Identifying and appreciating all of these flavors is a difficult skill. Maybe that's my calling….
Today 2/3 of all the cocoa beans used worldwide come from West Africa. They can only be found in very warm regions. The pods (which seemed huge to me) grow out of the trunk of the tree. The seeds are harvested from the pods, covered with banana leaves to ferment then dried to sell to make chocolate.
After the history lesson, we watched a demonstration of how they make the beautiful chocolate pieces you see in stores. We also saw how they make filled candies. The chocolatier called the filled chocolates pralines (I think we typically call these truffles.)
The shop itself was beautiful inside. The counter had a sampling from all 10 Chocolatiers this shop represents. We made a mixed bag and tried quite a few.
Fortunately it was a beautiful day- very warm… Unfortunately it was making our chocolate melt… So we decided to eat it all at once!
The Grand Place is the central square In Brussels. It's surrounded on all sides by beautiful gothic buildings. Some of the most notable buildings are the Town Hall, Guildhalls, and the Maison du Roi (king's house).
It doesn't get dark in Belgium until around 10 PM (which they call 22.00) this time of year so we extended our days. We stopped in a cafe looking for waffles, but when we saw the food we decided to stay for supper. It was one of our favorite meals so far.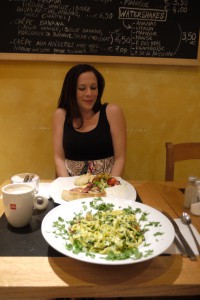 The next day we walked around the European Parliament buildings and headed back to the city center to visit the Rene Magritte museum. Magritte was a Belgian surrealist artist. Most of his most famous works were not actually here. They are parceled out at various other museums around the world. The museum travels through the phases of his career and his evolution as an artist.
"My painting is visible images which conceal nothing; they evoke mystery and, indeed, when one sees one of my pictures, one asks oneself this simple question 'What does that mean'? It does not mean anything, because mystery means nothing either, it is unknowable." –René Magritte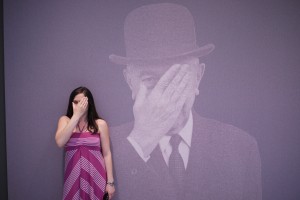 After the museum we walked out to the "Mont des Arts" (a square) and it was filled with ladies wearing all white dancing around hanging laundry all over this beautiful place. What? So we asked- it's "Iris Day" in Brussels- a day to celebrate warm weather and the variety of culture in Brussels. This was apparently some display of street theater.
Throughout the day we watched a graffiti artist, live musicians, dancers, a pink piano sitting in a huge fountain, scarecrow sculptors, and several other random acts of art.  We ate a delicious street waffle and celebrated variety in Brussels!
Category: Alison's Blog, Belgium, Blog, Destinations