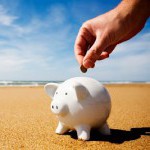 We have been fortunate to be able to save enough to fund ourselves for a period of extended travel and feel comfortable that we will eventually be able to make arrangements to transition back to life in America. We will be keeping costs as low as possible. We plan to stay in hostels, backpacker hotels, budget inns, etc. We will take the cheapest forms of transportation unless we are in a time crunch to arrive somewhere on a schedule. Our pace of travel will vary depending on our energy and interest. We have a general outline and month to month itinerary, but will surely deviate from this to save a buck, link up with fellow travelers, or make a change because we felt like it.
For planning purposes we researched and thought through a budget including a healthy buffer for incidental and emergency expenses. The budget includes average estimated costs (housing, food, entertainment) on a daily basis by country. We also estimated a rough transportation budget to cover airfare, buses, trains, rental cars, etc. to get us from one place to another. Because of our flexible plans with regard to schedule and destinations we have opted to not preplan our flights with a RTW ticket, but instead to piece the legs of our trip together as we go. We think that this style of transportation planning will end up costing us around the same amount as a RTW ticket plus ground segments, but will offer more flexibility with fewer rules and limitations.
If you are a fellow traveler and want more specifics regarding how we went about planning and budgeting, please send us an email and we will happily send you more details and links to great online resources.
Category: Alison's Blog, Blog, Planning