Day 7
We designated this day recoup and planning day. We're planning details as we go so it's necessary to have some time to book accommodations, travel, check email, upload pictures etc. And we needed some time to catch up on sleep… Of course we did make it out to eat.
Here are a few differences between the Netherlands and the US.
No free anything:
condiments- .30 for a ketchup packet
napkins- nonexistent in most casual restaurants
water- they won't give you tap water in restaurants. Must buy bottled mineral water -still or sparkling .25 liter 2.50 euro
use of restrooms- there is a pay for use system 1 euro most times.
Porta-potty:
They are only for men and are not a private tiny room you go in. It's a 4 person cross shape open air facility. These are just placed all over town. The liberal Dutch.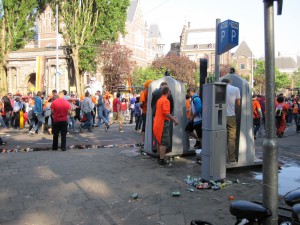 Energy conscious country:
Every room has motion lights
2 flush options
Push button showers (20 seconds of water per push- like a sink in elementary school)
Place keycard in door to turn on ac or lights.
Fashion:
Must be suitable for bike riding- even in the cold. Most young women are wearing tights with very tight, short skirts. Business men are all wearing slim fitting european cut (double back split on jackets) suits.
Coke:
It's  "Coca-Cola Light" instead of diet. I did find a Dr.Pepper but no light option.
Wedding rings:
People wear wedding bands on their right hand. They are all simple bands only- no diamonds or bling that I spotted. Apparently Catholic people wear them on their left hand.
Tipping:
You don't tip for service in the Netherlands. Employees are paid a fair wage so it is not expected.
Breakfast:
Everyone eats lots of bread and hard boiled eggs. They also have cheese and sandwich meat for breakfast. Even at a hostel there were many coffee and tea options- regular, cappichino, coffee verkeerd, espresso, lattes, tea, etc.
Voltage:
Dutch use 230 volts. 150v and 250v will not work. I tried both options on my blowdryer and blew both fuses we had for our adapter. Oops! Had to find a replacement and Pat has forbidden my blowdryer for the rest of the trip… we'll see- haven't used it yet.
Category: Alison's Blog, Blog, Destinations, Netherlands