Rossnaree.
"Slane"- the bus driver yelled. This was our stop. We stood up, got off (the only passengers exiting), grabbed our bags from underneath the bus and zoom- away it went. Alone we were standing on the side of the road, at a bus stop, in a very small Irish village. Hum… the plan was to meet our ride the owner of Rossnaree here. We were looking for a lady in a blue pickup. There were no pickups waiting. There was no one waiting.
A few minutes later a man drove up, rolled down his window and asked "Are you lost?" I said, "I hope not- just waiting" and away he went too.
30 minutes pass…
Then came the rain… It rains all the time in Ireland- but we're standing outside with our packs on our backs, so we're not thrilled for a lovely shower. There's no shelter. No stoop. Nothing.
30 more minutes pass…
Then came the hail!  Not kidding, it started hailing on us… We've got nowhere to go and still no blue pickup. (If you're wondering, we do have our rain jackets on with the hoods up at this point.) Pat's comment, "Hail is better than rain- it's easier to brush off of our stuff." I'm thrilled.
This is the first time on our trip so far we've allowed ourselves to be at the total mercy of a stranger with no real alternatives for transportation, housing or food. "I hope she shows up," I said to Pat.
30 more minutes pass…
Here comes the blue pickup…
Whew. This is on.
Why are we here?
Simple answer- we are posing as organic farmers. (We are still laughing about this on our end.)
Long answer- We found a website/organization called WWOOF. I think it stands for Worldwide Opportunities for Organic Farming. We we're reading about ways to volunteer in different places and this came up when we were trying to think of ways to see the smaller towns and countryside locations around the world. There is a list of hosts by country that post advertisements about their farms. The listings or advertisements typically include information about what they need help with, hours required, accommodations, length of stay requested, and any other details they want to include. It's pretty much a work exchange on individuals various projects. You work and they provide food and housing. There are some really really "organic" opportunities out there who's descriptions alone made us belly laugh when considering the thought. Back to Ireland…
We searched and eventually thought we had found the perfect site to test the waters with this "WWOOFing" thing, if they would have us that is. "Rossnaree House and School of Art" in County Meath, Ireland. It seemed like a perfect fit. The ad we actually saw was only up one day and then it somehow disappeared so we really don't remember what it specifically said… But we had written down the name of the house and found the website for the location online with a phone number. What we thought it was for was needing help with the bed and breakfast and in the vegetable garden. We checked out the website, saw how beautiful the house was, read all about the art school, saw the B&B rooms, then called the owner. Basically we said we'd like to come WWOOF and told her the date we would arrive in Ireland. She agreed and when we asked more detailed questions (is there internet, what are the accommodations, what will we be doing, etc.) her answer was, "We'll figure that out when you get here." So we decided to go with it. We headed that direction and hoped for the best.
Let me quickly say, there was definitely some initial shock but we adjusted quickly and found a daily rhythm of enjoyment.
Once we found Aisling, our "lady in blue pickup" we were on the way.
Aisling (pronounced Ash-Ling) is the name of the lady who owns this place. She is a lovely person. Very Irish accent, 50ish, eats bits from the yard as she walks along- grass, leaves, whatever. Excellent cook. She likes to makes tonics from wild things to sooth or aid all kinds of ailments. She mixes flowers and crops in the garden. She doesn't want to pull weeds that bloom. She is an artist. She thinks and talks about nature and creative organic natural nurturing of the world around plants, people, places. Her late husband was a constitutional lawyer in Uganda and she lived there and raised her kids for 8 years there. She has also lived in London. She has a great love for Africa. This house was his families. Her mother-in-law mailed them the keys while they were in Uganda and said they needed to come home and take over, she was moving out. The mother-in-law lives on the land in a nice smaller house near the gates.
Aisling has been very hospitable- but I think we are quite a surprise arriving under the "WWOOFer" category. She said we are far too clean looking to be WOOFers with a big question look on her face. So, we were caught right from the start. We didn't really claim to know anything much about how to farm or garden or anything- Pat focused on growing up on a farm on our online profile, I guess I'm just labor in tow. Nonetheless, clean and all, she is treating us like any other WWOOFers. As she should- we are total strangers.
When we pulled up to Rossnaree we came through the front gate and it looks just like the website. Beautiful! The house is a cream color with a bell tower and 5 chimneys.
There are amazing views surrounding the entire property. The fields are green and golden with crops and animals. From the house you can see both Newgrange and Knowth. It is also located on the Bru na Boinne river. It's picturesque Irish countryside. Very romantic feeling with a long driveway, a stone walled garden, a front entrance and a back entrance, hills, connected stables, workshops, other buildings, etc.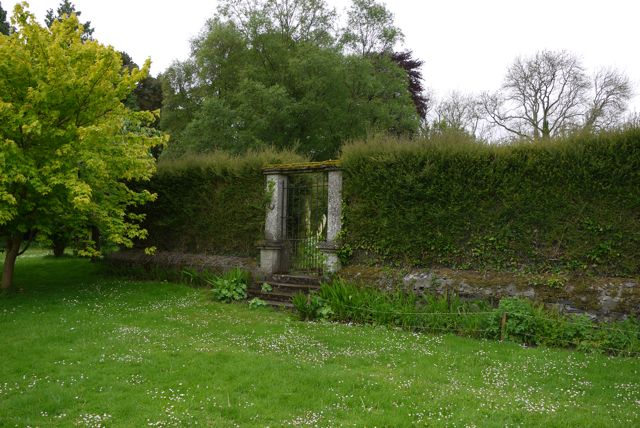 Once we arrived, Aisling said she would show us our room and then give us a tour of the property. First we pulled up to the back entrance of the house and were shown a staircase up to the area we would be staying in. Holding our breath, we walked up and entered through the kitchen area then on to the bedroom and bath. The bedroom is a very humble space. Approximately 6′ x 9′ with a low (6in. off ground) bed. The bed isn't a box spring and mattress- we would call it a pallet.  There are some cabinets in the room- so we piled our things in there. The kitchen and bath are shared with the full-time handyman, Jurandir. He also has a bedroom. After absorbing our accommodations we headed down to the house for a tour of the grounds.
First we found some wellies (rain boots) to borrow- thank goodness!! There were some in both of our sizes just laying around in the mud room aka dogs kitchen. We pulled them on- now the only shoes we have worn outside here- and headed out. We walked all around the property close to the house and met all the animals. Then we made our way down close to the river, where the cows currently are. We climbed over gates, crawled under electric fences, waded through boggy areas, high kneed it through forestry and brush, ducked under trees, walked in the creek, you name it. When we went into the area with the cows Aisling warned me not to worry when they charge at you, she said they won't hurt you. This whole time the 2 dogs Dagda and Rocky are with us. (You know my love of dogs and animals in general. Scarcasm intended!) I fortunately didn't get charged by the cows.
Rossnaree is 200 acres of land and 3 km of fishing rights on the river. Some of the land is rented out to farmers for cows, sheep, and crops. They grow a beautiful crop called rape seed. It's golden in the fields and makes a type of oil- apparently an inferior one used for basic cooking.
After the land tour (which really was beautiful and inspiring), we also walked to the other homes to meet the people.
There is a gate house where Aisling's son and wife live with their 2 daughters and the au pair.
There is an attached apartment to the house where Lue and Paddy live with their son Neddie and baby on the way.
There is a separate home close to the river called the Glen House where Chaz and Minni live with their son and daughter.
There is our apartment where Jurandir lives and us.
There are 4 art studios of various types.
More on the people of Rossnaree:
Jurandir (full-time handyman). Brazilian 40ish. Married with 2 kids still living in Brazil. He has been living and working at Rossnaree for 3 years. Speaks Portuguese and is working on his English. We could easily communicate- he is doing very well. He is an incredibly hard worker. Can fix anything- tractors, washing machines, etc. He seems to love animals- is tenderly caring for eggs to hatch under homemade incubators. He takes care of all the land and animals- garden, grass, house maintenance, vehicles, etc. Works very long hours and is always on call because he lives here. He is genuinely one of the kindest most generous people we have ever met. When we arrived the first thing he said to us is "This is not just my home it is our home now- anything here is for us. Please be comfortable." He showed us around the tool shed and workshops, answered any daily questions we had. Took out our trash. Cleaned our dishes before we could get to them. Brought us a snack of his favorite chocolate in the garden. Made dinner for us. Such an incredibly kind man. He is very handy. Self taught in most regards. He worked in security in Brazil but the wages are not fair although there are jobs he explained. He dreams to one day have a small eucalyptus farm in Brazil with some kind of housing for missionaries and churches to come camp there for retreats. He loves contemporary Christian music. He said Hillsong and Michael W. Smith changed music and church in Brazil forever. He plays the bass in a praise band of sorts in a small church of Brazilian people in this area. He invited us to his church and told the people about us. He drinks just coffee for breakfast, no lunch, and a big dinner of rice, beans, tomatoes and chicken everyday. He loves loves tomatoes. Thinks the water here is salty and enjoys pineapple juice instead.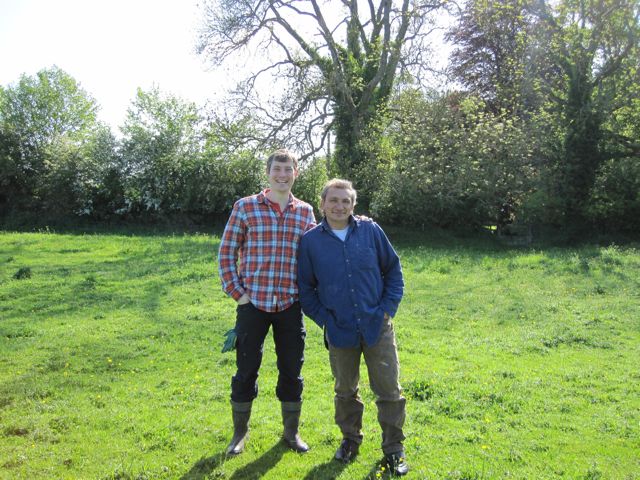 Emeil (son of Aisling) married to Emelia. Emeil is a film maker specializing in documentaries. He is currently working on a film about a break dance group in Uganda. He has been following them for quite a while and they just completed their first tour in London. There have been many dialects used during the filming so right now at Rossnaree one of the troop members, Philip, here to assist him with creating subtitles to translate the dialects. He has one of the studios here for his work.
Emelia (Emeil's wife) is a writer. Her passion is to write for theater. She told us she writes for trade magazines about film for money when she needs to.
Romana (oldest daughter of Emilia and Emeil) She is 4. Precious, very verbal, very mature. She goes to school for a 1/2 day then spends the afternoon with the au pair and the other 3 kids.
Rossaline (youngest daughter of Emilia and Emil). She is 1 1/2. Incredibly cute. Rosy cheeks.
Philip is from Uganda and is a 22 year old professional break dancer. He's extremely polite and friendly.
Lue (rents apartment attached to main house). 30ish. Caters for work. Pregnant due in July.
Paddy (Lue's husband)- he is a film artist. Makes modern film art. Has a studio here.
Neddie (son of Lue and Paddy)- 3 year old boy. Curly blond hair. Talks a lot in sweet Irish accent. Says things like  "my trousers are falling down".
Chaz (Brother of Paddy)- owns a tent company. They call large tents Marquis here- used for weddings and events.
Minni– (married to Chaz) stays at home with baby Sofie (6 months old).
Hector (son of Minni and Chaz) 2 years old. Very determined and serious in his movements. Crys easily. Loves to dig and plant.
Christine– Canadian AuPair. 30ish. Worked in advertising in Toronto decided to mix it up for a year.  She has the kids from 10 am to 3 pm 5 days a week. She's also working on notes for a book. She lives in the gate house.
Emmanuel (Aisling's nephew). 25 year old boy from Norway. Passing through to do some work to make some money before heading back to his boat which he plans to sail around the world with 2 others.
Jonas (Emmanuel cousin) 21 year old from Norway. Passing through doing odd jobs.
Animals:
A very very very large Irish Wolfhound- Dagda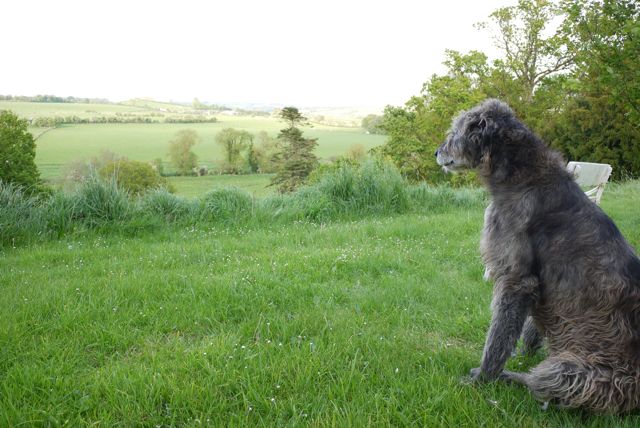 A sheltie- Rocky
A brown dog- Buddy
A huge pig- Celeste
A cat- Timone
A donkey- Mookey
A (deformed) goose- RyanAir (born with wings)
5 geese
A rooster- The Corneal
A Horse- Molly
A ginny fowl
6 chickens
2 pheasants (minus 1 pat lost)
20+ eggs incubating into quail, geese, ducks, chickens
50+ cows (on the land- owned by renting farmer)
And some others I'm forgetting at the moment… None of these animas are meant to eat.
The daily life here is interesting- no two days are identical. The day after we arrived Aisling drove us to a grocery store to pick up our groceries for the week. We prepared our own meals in our kitchen with Jurandir. She invited us to have dinner in her house twice. I helped her prepare those meals. She has a stove called an Aga that is always on and runs on oil. Apparently it is very old and special. She uses it also to heat the kitchen. A lot of the furniture in the house she brought back from Africa when they moved back. All of the B&B rooms have a theme.
Once we had settled in a bit, Aisling told us we could start work on Monday and have the weekend off to explore. We would then work 9-5 with an hour lunch break.
The first weekend we were here we decided to see the sites of the area that we could. We don't have any transportation so we have been somewhat limited. We walked about an hour along the river to the site of the Newgrange and Knowth visitor center. It is one of the top tourist sites in Ireland.
These are believed to be the oldest manmade structures in the world. Their exact use is unknown but they have found human remains (burial site) as well as other items that suggest ritual sites, community, etc. There are stones surrounding both sites that have symbols. At Knowth we we're able to climb on top to take in the view. At Newgrange we were able to go inside the chamber. It was a really interesting tour and afternoon getaway.
Monday morning- our farming work begins. (Go ahead and laugh- before we left Dublin to come here to WWOOF, we went to a discount clothing store and each bought some work clothes. Pants, long sleeves shirts, solid shoes. We didn't pack to farm in Ireland and the things we do have we hope will last the next 18 months so we didn't want to ruin that stuff- so we got our new WWOOfing clothes. Lol. I think I can guarantee most people don't buy new clothes to garden. Oh well. We hid the tags.)
Dressed in many layers- it's 40 degrees here- we went out to start our first projects. We we're given direction by Aising and were left to manage ourselves.
Monday- Weeded  potatoes. Cleared grown up berry bush rows of seriously tall weeds. Mulched under all. Gathered 3 giant burn piles of cut town limbs from the woods near the river. Fed Celeste many many loads of weeds.
Tuesday- Cleared current bushes from under netting. Weeds grown up taller than the bushes. Created nice walkable rows. Mulched underneath all. Chopped down section of wild things using an African slasher. Created compost. Fed Celeste more weeds. Cleaned up rows in garden and mulched.
Wednesday- Cleaned flat plots in garden. Weeded, mulched, fed animals. Planted 6 types of seeds. Slashed certain type of wild flower- bagged and are making a natural liquid compost in a huge tub.
Thursday- Filled in trenches between rows with heavy compost by hand (no wheelbarrow). Transplanted Romesco from all over the garden to one place in the new rows. Weeded all raised beds and watered entire garden.
Friday- Fed all the animals alone. Lost pheasant. Oops. Planning what to do next.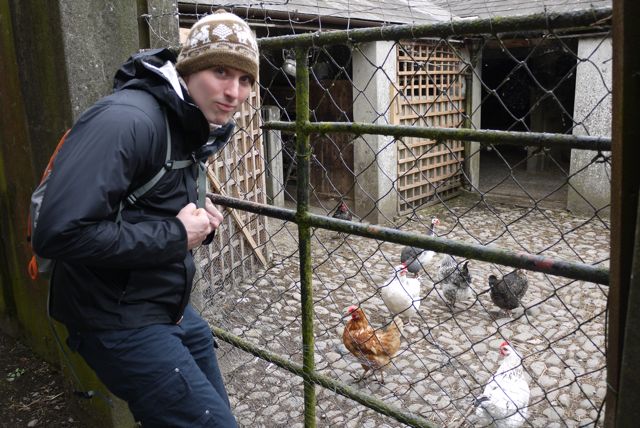 On Wednesday night we needed some things from town- so we decided we would try to bike there. It's about 7km each way to the town of Slane. We found some bikes- tried to fix them up a bit, Jurandir put air in the tires for us- and away we went. Pat is a cyclist- I am not. There were a lot of hills and curvy little roads with people driving on the left and not seeing you so you throw yourself in the weeds on the side of the road to avoid getting hit. There was also beautiful scenery, sheep, cows and dogs all along the road. And it rained on and off and it was windy and we had worked all day…. But we made it! We ended up finding a nice restaurant and eating supper in town before making the trip back which was much more bearable than the trip there. Plus we grabbed a 2 liter of diet coke and some candy at the store to bring back.
On Thursday night we had a nice meal with Jurandir and then went into the house to tell Aisling goodbye. She and Jurandir were leaving for Norway at 3am. They will return after we leave. So they left us with a list of the animals we needed to feed while they we're gone. Pat handled it this morning but accidentally let the female pheasant out. He chased her through the pig pin with huge Celeste trailing him going crazy for food. Then tried to sneak up on it- didn't work and now we can't find it. We feel really bad… But what can we do!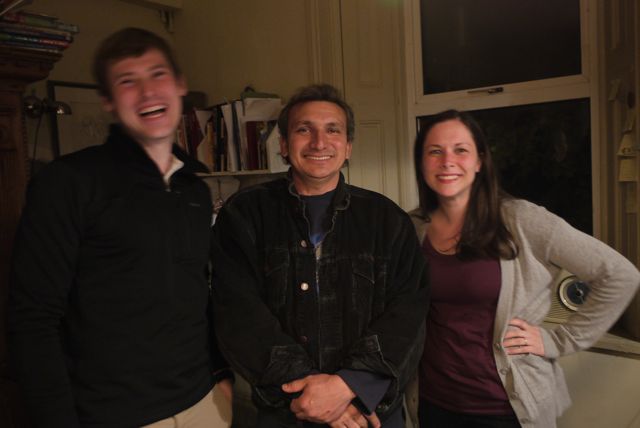 Rossnaree has been quite an experience. I'm amazed at how quickly you can adapt to something totally foreign and find a place. The work was somewhat what we expected, the accommodations were tolerable, and the people were excellent. It's a WWOOFing success!
Category: Alison's Blog, Blog, Destinations, Featured Posts, Ireland