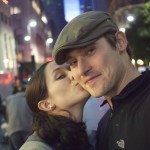 For several years the idea of traveling the globe has been planted in our minds. We've talked about it on and off, dreaming of all the possibilities. Finally, the right time has arrived for us to change the course of our careers and lifestyle and take a leap of faith.
This decision is partially motivated by curiosity and adventure but even more so by an earnest desire to seek greater global awareness and involvement.  We hope to refine our view of the world and ultimately our role in it.
Our plans include experiencing cities and countryside, architecture and art, culture and religion, beaches and mountains, history and food. In some places we plan to volunteer with various organizations and programs. Above all else, we hope that we will find opportunities to connect with the people of the places we will visit and that those relationships will allow for authentic understanding and lasting connections around the world.
We believe that God has an exact plan and purpose for our lives and that He has given us unique gifts and abilities to use. Much prayer and contemplation has gone into taking this plunge and accepting this adventure as an intentional step with purpose. Doors have opened to allow for this to become a reality and we intend to live each day of this trip abundantly while seeking God's plans for our daily adventures.  We know our blessings come from Him and hope to be a witness daily to all those we will meet.
There is no better time than the present to do what you can.  So, Here's to Now.
We hope this blog becomes a way we can be involved with others. If you have ever taken an extended trip, if you know someone who has, or if you dream about it- let us know. If you know someone, something, or somewhere that we should see- please share.  If you are traveling and want to meet up- send us a message. If you are our family, our friends, or total strangers- we'd love to hear from you all!
Category: Alison's Blog, Blog, Planning