"We are Marching in the Light of God…" when I think of our time in Kamonkoli this song plays in my head.  I heard it for the first time when the children's choir performed it in church. My attention was drawn to three girls on the front row, Sabrina, Susan and Peace, as their braids swung to the music as they moved. It was precious. That morning when I sat down randomly in the packed house church a little girl ran up and jumped in my lap- determined to stay there. I was happy to have her and later found out her name was Peace. After church, I curiously watched to see whom she belonged to since I noticed she was wearing socks and shoes, an extremely rare sight to see. I should have known, she was one of Katherine's bunch.  Fortunate for me, I got to see her and her brothers and sisters almost daily while we were there.
As part of a mission team we had various responsibilities during the week. Pat taught two Bible studies to large groups of adults.
I worked with the children during the Awana program on Saturday as well as during Sunday School.
Pat worked on the construction site and got to fellowship with many of the local men working on the project.
I helped with a ladies Bible Study and Christmas party.
We both went on home visits to check in with sponsored children and to deliver clothes and shoes to other children in the area. We took each family a small gift and prayed with them. We gave out dresses, shirts, pants, shoes, toys and a few balls. We got to share the Christmas story at several stops and were even given a few chickens as gifts of gratitude for coming to this place. The children would put the new clothes on right then and were so proud and grateful. We sang at a lot of the homes and were able to recognized many faces from church and Awana.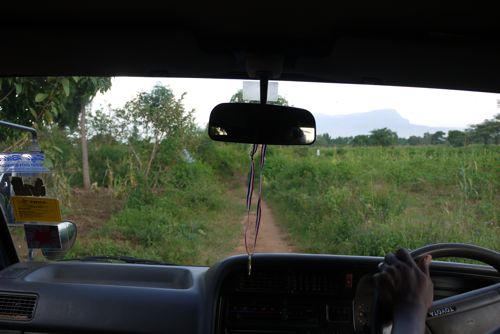 We enjoyed family style meals with four families who together pretty much operate all of HUM. Katherine's family, Pastor Charles and his wife Judith's family (pastor and office/social worker support for HUM), Bosco and Nancy's family (programming, school and orphanage directors), and Michael and Joy's family (physician's assistants). At every home we were invited to we were welcomed with open arms and hearts. One of my favorite parts of the entire week was getting to hear the stories of these families and how they came together in this ministry.  Within those stories, we learned how they all met, how spouses fell in love, how their families uniquely formed, how they chose these careers, and how their paths all led to Kamonkoli.
During a lunch break at Katherine's house, one of Katherine's oldest daughters (recently married and expecting) Peace, offered for me to try on her wedding dress. In Uganda weddings have two parts- the traditional "introduction" and now for Christians the church wedding also. She brought for me to try on her two traditional wedding gomez dresses. These dresses are very valuable to the women and are extremely special. It was an honor to get to play dress up in them.
One of the funniest moments for me was at the ladies Christmas party. Before the Bible study began I was walking around visiting with the 200+ ladies who were congregated in the sanctuary of the church. Someone handed me a baby to hold. After a bit, the baby started to get fussy. I did the American style things we do to comfort a baby- bounce, sing, jiggle, sway, etc… well five seconds in to comforting this baby a group of African women watching me with great concern started to give me directions. Remember, most of these women don't speak any English- so it was all motions. They wanted me to nurse this baby! They started motioning for me to pull my shirt down already and let the baby suck… their motions were much like attaching a fire hose to a water spigot. In the moment I think I showed a face of true terror. Trying to deflect the situation, I said "I've got nothing to give" and with someone translating all the ladies broke out in laughter realizing how freaked out I was by the notion.  In Africa, there are no pacifiers. Babies suck for comfort- milk or no milk- actual mother or stranger from America- they take whatever they can get. If I had to do it again, I'd probably just go with it and give it a try- but in that situation, in the middle of the church, with other American's around- I wimped out.
Each member of our team contributed to writing about the activities of our time in Kamonkoli on the Orphan's Heart blog.  These stories really express the beauty of this place and our small part in it.  To read the various posts visit:
http://fbchinternationalchildcare.blogspot.com/search/label/Uganda
(Pat wrote about the Bible Studies and I wrote about Awana. There are other entries about home visits, construction, families homes, medical work, and Uganda.)
At the end of our working week in Kamonkoli the team took a hiking trip to Sipi Falls about two hours away. Several of leader's children joined us for the trip and were a delight to get to hang out with. Pat had an especially good time with Izzy (Israel) and Goma.
Each time we met at Katherine's house for a devotion we would sing. The entire family would gather in the living room and the older girls would lead most of the songs. Someone would play the jimbay quietly in the background and everyone joined in. One of my favorites they sang was "I'll be Somewhere Working for My Lord."
It was a humbling week for sure, full of laughter, prospect and joy.
Category: Alison's Blog, Blog, Destinations, Featured Posts, Uganda