What an amazing, fortunate, and difficult process it was deciding which of the 1,430 Thai islands we wanted to visit. We had our hearts set on a week at the beach- tropical sun, soft white sun, turquois water- we were looking for the beach you see on screen savers and in postcards. We wanted tranquility, isolation, natural beauty and comfort. After pouring over guidebooks, blogs, reviews and maps it was Ko Pha Ngan that called us to her.
Ko Pha Ngan is located in the Gulf of Thailand, just north of Ko Samui. It's notoriously known for hosting full moon parties at Haad Rim Beach. Obviously uninterested in that scene, we found exactly what we were looking for on the opposite side of the island.
To get there we flew to Surat Thani on the eastern shore of the mainland, we then boarded the local four-hour ferry to transport us to Thong Sala, the ferry port on Ko Pha Ngan. Once on the island it was the trickiest part of all figuring out how to get over the mountain to our chosen secluded beach resort. After explaining to several of the haggling taxi drivers around, we came up with a plan. We first got in a typical pickup truck taxi where you ride in the back on benches. Unfortunately this pickup didn't have four-wheel drive so the driver explained that it couldn't make it to where we were asking to go. There were no surface roads on our chosen side of the island. He actually said we couldn't make it because of all the rain, but we were insistent. His solution was to take us to his cousin's house where we got in a different pickup truck with four-wheel drive for the rest of the journey. One small animal collision, a lot of mud slinging, and a good bit of tire slipping and spinning later we arrived at the Thai beach we had dreamt about.
This week happened to include my birthday, so Pat took the lead planning our accommodations. We both agreed we were up for a week of pure vacation, not travel. In our current lifestyle, there is a big difference. All we wanted to fill our days was basking in the sun, reading and enjoying mango smoothies and spicy curry each night.
Our first three days were spent at Panviman Resort. This beautiful place is set in the hillside above a stone beach dividing two bays. To one side is a view of giant rocks connecting the land and sea. On the other side is Thong Nai Pan beach. The hotel has constructed a bridge allowing you to walk among the giant boulders next to the water. At Panviman we enjoyed giant plates of fresh fruit for breakfast and lots of poolside tanning time. At dinner we buried our feet in the sand beneath the table and enjoyed the sounds of the ocean and live music melding.
In the distance from the very beach we were on, we could see our next destination, Santhiya.  All of the resorts on this part of the island have private speedboats that both bring guests in and take them away. It wouldn't be a stretch to assume that 99% of the guests at these places arrive by the hotel's private boats. Considering we had already taken a ferry and the back of two pickups to get here, image was not our concern. We knew where we needed to go- we just couldn't easily walk there because of the mountains and the sea. It seemed silly to pay for the hotel shuttle so the day before we were moving hotels we struck up a plan with a local fisherman. He had a boat, a longtail that was floating out in the ocean just needing to be used. We told him we'd meet him on the beach the next day and he agreed to deliver us to our second and most luxurious resort Santhiya.
The plan went off without a hitch. We waded out, threw our bags on, jumped in, and he started to motor over to the resort. Before we got there, he paused for a moment and we settled up before we were too close to the shore. There were two reasons for that: 1- there were rocks nearby and he needed to focus on avoiding them while getting us to the shallowest water possible and 2- if he needed to leave quickly once the hotel saw what he was doing- he wanted to be pre-paid.
Longtail boats aren't exactly known for their muted engine sounds. As we motored close to the beach, heads started popping up. Everyone on the resort's private beach was watching our entrance. When we were as close as the boat was going, we jumped out getting only the bottom of our shorts wet, grabbed our bags, and waded to shore. At this point the beach towel boy started running toward the water a. very confused that we were arriving this way and b. even more concerned that we were being allowed to carry our own bags for even one minute. I know to the other guests we must have looked like the Clampetts arriving in Thailand.
Delighted with our resourceful transportation we had no idea how elated we were about to be. With dignified grace the staff welcome us with fresh juice and hand towels. This place was first class all the way. Pat had secretly written an email to the hotel mentioning it was my birthday, and asking if there was anyway they could help him celebrate (i.e. a cake), they delivered well beyond dessert. At check-in we were notified they had upgraded us to a see view villa with a private plunge pool- quite the birthday gift!
It was the most beautiful hotel we have ever seen. Truly breathtaking. You entered the villa through a private entrance with a wrap around walkway to the pool. The entire villa had windows facing the pool and the giant outdoor bathroom was in the back. The living room and bedroom were connected with a barrel-vaulted ceiling hallway. The plunge pool had an infinity edge that dropped over to a 20-foot tall waterfall below. From inside or out we could see the ocean in the distance. It was amazing.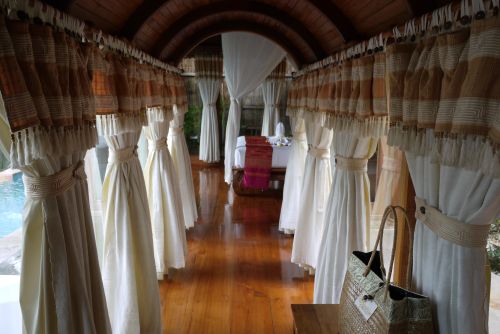 Our final three nights on Ko Pha Ngan were spent here. We rotated our time between the beach, the large hotel pool, the lap pool with wooden lounge chairs positioned in the water, and our villa pool.  This was a place we will never forget.
By the time we left our cheeks, backs and bums were all pink- properly toasted from the Thai sunshine. On departure day, with another exciting adventure on the horizon, we caved and took the hotel speedboat to Ko Samui.
Category: Alison's Blog, Blog, Destinations, Featured Posts, Thailand