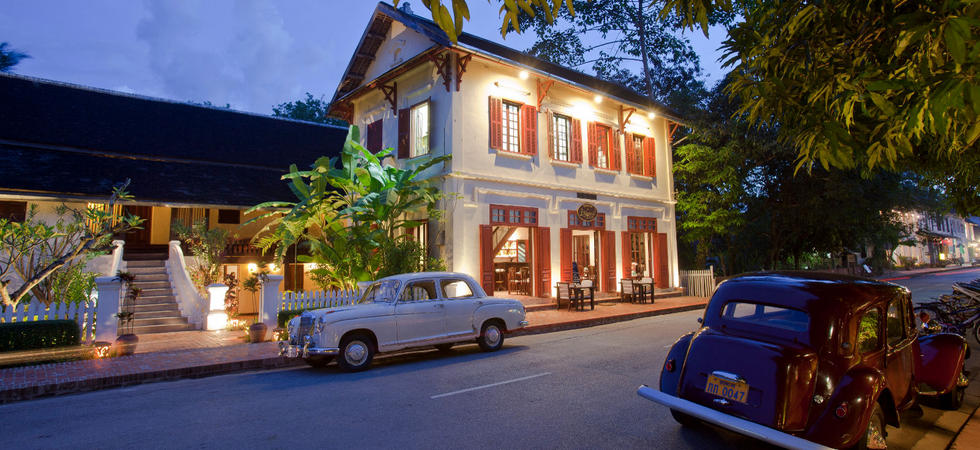 Food, Glorious Food
While the sightseeing and activities around Luang Prabang draw tourists in, the inexpensive yet high quality food, drink, and accommodation gives one all the more reason to extend your stay.
Since 1 in 10 jobs in Laos are tourism related, it was no surprise to find an incredibly wide selection of Lao, French, western and fusion restaurants packed into the row upon row of colonial style buildings that line the downtown streets. The surprising thing was that the overwhelming majority of these food venues are really fantastic.
I'll admit that Alison and I can be a touch food snobbish at times, but I have to say that the quality, ingenuity, and breadth of the restaurant selection we found in Luang Prabang was a huge reason why we just couldn't pull ourselves away from this city. When you can eat at a different amazing restaurant every day, for breakfast, lunch, and dinner, for around $5 a person – why leave? That was our though process at least.
Finding inexpensive amazing food can be a huge comfort factor for many long-term travelers (us especially) encouraging you to simply stay a few extra days to test out the many restaurants available.
Here are a few of our favorites we were able to indulge in during our stay (avg. price for a main dish):
Le Banneton Café

– ($5 or less) by far the best choice for breakfast; this inexpensive French café boasts the best pastries in town; try the pain au chocolat and/or butter croissant, they are fantastic.

Joma Bakery Café

– ($5 or less) amazing bakery and coffee bar; a close second for breakfast after Banneton; by far the most popular expat hang out; LP's version of Starbucks.

Arthouse Café

– ($5 or less) rated #1 in LP by tripadvisor; great inexpensive Laos style cuisine; proceeds go to support various community development programs.

Tamarind

– ($5 or less) if your looking for Laos cuisine, this inexpensive choice is certainly in the top 3; also expat run, proceeds go to support the local community.

Pizza Sasa

– ($5 or less) best pizza in town; wood fired and inexpensive; great if you looking for some comfort food

IKON Club

– ($5 or less) only open after 5pm, the expat bartender mixes up the best cocktails in town; try the pepper infused dill martini.

Le Café Ban Vat Sene

– ($5-$10) great French café; offers the best traditional French cuisine for lunch and dinner.

Biblio Bistro

– ($5-$10) creative Laos cuisine; located across from 3 Nagas, this is one of the more upscale places in town; great option for lunch or dinner.

3 Nagas

– ($10+) creative Laos cuisine; on the more expensive end for LP but amazing for a nice dinner; was recommend as the top choice in LP by the New York Times; we celebrated our anniversary here and would choose it again in a heartbeat.
Accommodation
First of all, it almost goes with out saying that staying on the peninsula, in the heart of the downtown is a must. There is such a glut of hotels and guesthouses to fit any budget on the peninsula that no one need to sacrifice on location.
One place in particular that we would recommend is Thanaboun Guesthouse. On the main street, central to the greatest concentration of restaurants, the location literally can't get any better. And for $23 USD a night, it (surprisingly) isn't the cheapest place in town, but we were able to get the best room in the house (A202) – a remarkably large room overlooking the street with a king bed, A/C, and en-suite bathroom. Not to mention the downstairs of the guesthouse doubles as an Internet café. Since the room comes with free Wi-Fi, that basically translates to being able to access the fastest internet connection in town – a huge plus to a couple of bloggers looking to upload photos.  It was truly an ideal location of us.  Their less expensive rooms in the rear of the hotel seem to have received a few negative reviews from other travelers. So we certainly wouldn't endorse those – instead spent the extra $5 and get the private en-suite street view rooms – SO worth the extra money.
Category: Blog, Destinations, Laos, Pat's Blog